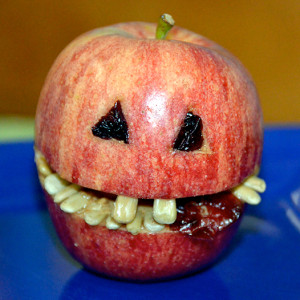 Get your kids to try sunflower seeds with this fun food art project! Sunflower seeds consumed during pregnancy may decrease the risk of asthma for your child later. They're also loaded with what the Super Crew calls fight-o-chemicals and contain needed vitamins and minerals. Sunflower seeds taste great in salads, rice dishes and trail mix. Apples around the skin have a compound called quercetin which boosts your child's brain power and is good for asthma.
Wash the apple -we keep a fruit and veggie scrub brush by the sink. This is a great task to get kids involved and sets the stage for them to help you scrub produce at meal time in the future.
Cut out a space for the mouth.
Add in sunflower seeds for teeth -using nut butter to secure teeth.
Flattened craisins out for the tongue.
Make space for the two eyes, flatten craisins, cut into triangles and insert craisin eyes (younger kids can use a plastic knife).
Eat and enjoy!