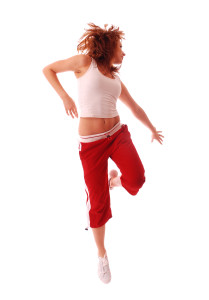 Everything old is new again, but there are still new workout fads popping up all the time. Here's a list of 15 wild new, old and odd workouts with a short description of each. Is one of these a good fit for you? You never know until you give it a try!
Belly dancing: Works the core and hard-to-work abdominal muscles.
Hop scotch: It's not just for kids – helps with muscle coordination, balance and core muscles. Plus its great cardio!
Zumba: This Latin-inspired fitness dance craze is effective at burning calories, improving coordination, and its fun!
Hula hooping: Work those hips baby! It's not just fun – it's a calorie burning, muscle-toning workout as well!
Step aerobics: An all-around workout that can get your heart rate up in a fun environment.
Pole dancing: This has become a popular way to feel sexy and get toned. Lets leave it at that!
Jukari fit-to-fly: Reebok and Cirque Du Soleil have teamed up to make working out more fun – Jukari uses a trapeze-like device to work all your muscle groups.
Valslide: Small discs you can bring anywhere to slide, tone and stretch.
Yogahop: This east meets west workout combines yoga and hip-hop for a full body experience.
Bootcamp classes: A group exercise class that uses intense interval training to whip you into shape.
Bar method: This workout relies on a bar and your body weight to isolate and sculpt all major muscle groups.
P90X Workout: This home workout regiment combines strength training, cardio, yoga and stretching. It is known for its intensity – so definitely listen to your body when doing this one.
Insanity Workout: Similar to P90X – you could guess by its name that this is a strenuous stamina workout that uses interval training to get results.
Gyrotonics: This uses a flow of motions with special equipment to work your muscles.
Piloxing: It combines Pilates and boxing to create a cardio/core intense workout.
Always remember: safety first. As much fun as these fad workouts can be, it's important to listen to your body and think about form over number of reps or amount of weight.