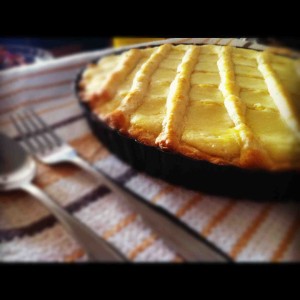 When I was younger, I would spend my weekends at my Bobe's. Saturday mornings was my favorite time of the week because she would play Candyland and KnockOut with me, let me try on her clothes and dance, and she would make the most amazing meals and desserts.
One of my favorites of all times was her Ricotta Cheesecake – it was sweet, smooth and the dough was the most delicious that I have ever tried. There was no comparison to that cake, hers was it! Still to this day, to me, that is the most delicious, comforting cake there is.
So, of course, growing up and discovering my love for cooking and baking, I asked her for the recipe and did not wait more than 1 day to try it out. To this day, over 20 years later and having tried a wide variety of options, my Bobe's cake is still my most favorite cake.
My Bobe's Ricotta Cake "A la moi":
Ingredients:
Dough
2 cups flour
2 tsp baking powder
1/2 cup sugar
1/2 c canola oil (1 stick butter – but oil healthier option)
1 egg + 1 egg yolk
2 tbsp milk
1 lemon (zest)
Ricotta Filling
1 lb part-skim ricotta
1/3 cup sugar
2 egg yolks
1 tsp vanilla extract
1 lemon (zest)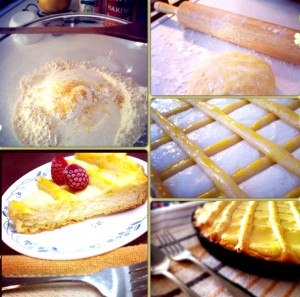 Directions:
Pre-heat the oven at 350 degrees F. Grease and flour a 9-inch pan and set aside.
For the dough: Combine all dry ingredients (flour, baking powder, sugar) in a bowl. To the mix, add the oil/butter and integrate well, then add the egg, egg yolk, milk and lemon zest, and mix all ingredients together until a dough starts to form. Don't be afraid of using your hands at this point! This is a great part to include the kids in the process!
Cover the bowl with foil and let the dough rest for 15-20 min in a cool place (not the refrigerator).
In the meantime, prepare the ricotta: In another bowl combine the ricotta with the egg yolks, vainilla extract, lemon zest and sugar.
Now it's time to assemble! Turn the dough out onto a light floured surface. Knead just enough until the dough is smooth. Divide the dough in 2 halves and set aside one. Using a large rolling pin, roll the dough into a large circle (big enough to fit on the 9-inch pan) until it is no more than 1/4 inch thick – remember the dough will rise about double its thickness as it bakes in the oven.
Using the rolling pin as guidance, place the dough in the pan and cover at least 1 inch of the edges and place ricotta filling in the pan.
Now take the other half of the dough previously set aside, roll the dough into a circle, and cut thin strips, using them to make a grid pattern on top of the ricotta.
(Optional) Brush the dough lightly with an egg wash (egg yolk with 1 tbsp water), and bake for approximately 25 minutes or until golden brown.
Yields 10-12 servings