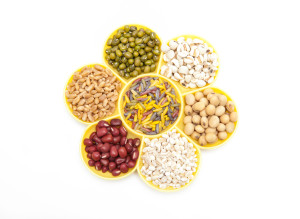 Give your family's diet an honest look. Start with the pantry. Are sugar cereals, soda, potato chips, crackers (made with enriched white flour), and cookies staples in your home? Look in your freezer – is it packed with packaged frozen meals, French fries, pizza bites, and ice cream? If so, start by creating a staple make-over list, substituting some of these foods for foods for healthier ones.
Healthy Pantry staples include:
•Canned pineapple in its own juice, mandarin oranges (great in salads, too), natural, unsweetened apple sauce, baked blue corn chips, salsa, bean dip, low-sugar cereals (100% whole grains on the ingredient list), whole grain crackers, and low-fat popcorn.
Healthy Freezer Options include:
•Frozen fruit such as bananas, cherries, mango, peaches, berries. Frozen veggies such as broccoli, petite peas, edamame in its pod (kids like to pop them). Homemade frozen soups, homemade leftovers, chicken breast, whole wheat bread, or whole wheat pizza crusts make good meal starters.
Fresh Options
•Pre-washed romaine, spring mix, salad, broccoli slaw, shredded cabbage, baby carrots, sugar snap peas, raw cauliflower and raw broccoli, jicama, sweet potatoes (great for baked fries with seasoning and low fat sour cream).
•Fresh fruit:  bananas (when they get too ripe, peal and freeze for smoothies), apples, oranges, berries, pears, Asian pears and kiwi.
•If your kids frown at fruits and vegetables, try buying them as fresh as possible (at the farmers market). The fresher they are, the most taste and nutrients they retain.