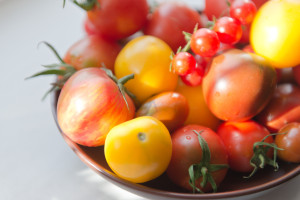 Personalize
Crunchy, steamed, chopped, or thrown in the mix. Serve vegetables in as many ways as possible. One texture might appeal better than another.
Promote
Keep vegetables in the front of the fridge. Don't hide them in the back! Put ready-to-eat vegetables on the counter with some dip. If they see it, they eat it!
Great finger-veggies include:
Baby carrots
Grape tomatoes
Pea pods
Broccoli florets
Persist
A child may need to be exposed to a new food about 8-10 times. Be persistent, and eventually he or she will become more familiar with the food or more likely to try it.
Plant a Veggie Garden
Gain interest in vegetables by starting a garden. Learning the connection between the garden and their plate is new and exciting. They will be proud of the work they have done and the delicious food they have grown all on their own!
Produce Books
Vegetable-themed stories are twice the bang for your buck. Not only are your children learning how to read, they are learned how to eat. Positive messages about vegetables are hard to come by. (Do you see many vegetable commercials on the television?)
Browse the Super Kids Nutrition Children's Book Review Corner for a taste of great reading!