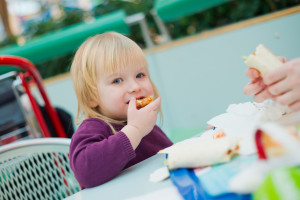 Hi, I'm Marcus one of the Super Crew Kids. I love to garden, take care of the earth and I especially love yellow foods!
Did you know being green can be really easy? There are lots of little things you can do to be green, save green ($) and liver healthier. Here are just a few things my family tries to do every day:
Eating out
Choose some vegetable based meals. Vegetable based dishes tend to be less expensive and full of health benefits. They call this eating Mediterranean style which is also good for the heart. Mediterranean meals encourage you to eat more whole-grains and vegetables and eat meats in moderation, especially red meat, which leaves a larger carbon footprint (bad for the earth and us) than veggies.
If possible, walk, skip, or scoot (my favorite mode of transportation) to the restaurant and back. My mom says it's "good on emissions, fuel cost and keeps you active." I just like the scooting part! A nice stroll or scoot may keep you from going directly to the TV or a video game after a meal. Dad says, "this can add up and save some serious cash and calories (oh! and it benefits the environment, too)."
Share portions, or take home leftovers. And if you feel really motivated—bring your own containers to take home any extras. This makes lunch so easy the next day –open up the fridge and there it is. Or if the portion is too big and you're not a leftover fan, save part of the meal up front in a take home container to give to someone in need.
Gotta scoot!
-Marcus