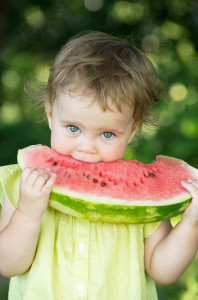 Hi Moms and Dads!
It's Baby Tom Tom and I am here to share how I can morph watermelon into fun shapes. After a long, hot day in the sun, watermelon is the perfect summer treat for both you and your kids. So, let' get started!
Shapes
We will start with an easy one. First, take out the watermelon and some cookie cutters. Moms and Dads, here's where you come in. Cut the watermelon into ½ inch slices. Now, using your cookie cutters, kids and parent together, press down onto the slices like you would for cookie dough. Remove the shape and enjoy. (Save the scraps for the next watermelon morphing—Popsicles!) )
Popsicles
Chop up watermelon into small chunks and puree in the blender (Adults only!). Then, pour your blended mixture into Popsicle molds. You can even add fresh fruit chunks like pineapple, strawberries, or grapes. Freeze until hard, and enjoy!
Sticks
Kids LOVE dips! Here's a recipe for my favorite fruit dip.
Just blend together the following ingredients:
4 ounces low fat sour cream
2 tablespoons sugar
½ teaspoon vanilla extract
Cut your watermelon into sticks (similar to a carrot or celery stick) and start dipping!
Think I'm cute, check me out getting ready to garden in my coloring pages, learning with the Super Crew's Fun activities and my adventures in the Super Crew book, Havoc at the Hillside Market.
Bye-Bye, Gotta Float!