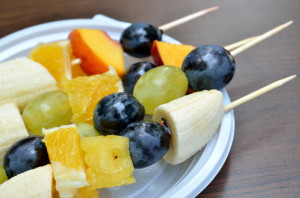 Sometimes my super-fast speed makes it hard to sit down for a snack! Good thing my mom knows just what to do. She prepares snacks ahead of time so we can just grab-and-go!
Here are some snacks that I have planned for the week:
Monday: Mango and melon chunks Grab-n-Go Snacks for Toddlers By: Melissa Ohlson, MS, RD
Tuesday: Tomatoes (cherry) and string cheese
Wednesday: Watermelon popsicles (see Baby Tom Tom's recipes for more watermelon ideas!)
Thursday: Turkey Roll-ups (turkey with slices of cucumber in a 4" whole wheat tortilla) *Try Applegate Farms Turkey for lower nitrite content
Friday: Fruit Salad: a whole mix of my favorite fruit! I especially love purple grapes (frozen)
Saturday: Starfruit because mom say's I'm a super star!
Sunday: Sugar snap peas, so sweet and crunchy, with hummus
For more on grab-and-go snacks, check out
Gotta Run,