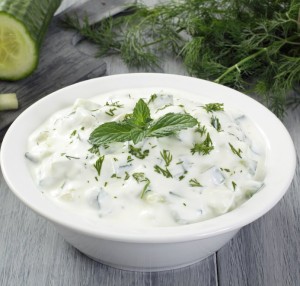 My diet is mostly plant based, so I like to add plain Greek yogurt for a protein boost. Plus it adds a creamy taste and texture that makes dishes feel more satisfying. Here are 15 ways to enjoy Greek yogurt:
On baked potatoes, served with chives, kidney beans and shredded cheese.
Mixed with fruit jam and served on top of warm toast.
On nachos in place of sour cream.
Mixed with berries and honey for a sweet dessert.
On turkey tacos.
Served on top of waffles with fresh fruit and my favorite nut, California walnuts.
In a peanut butter and banana smoothie. Yum! Try this sweet and refreshing parsley pineapple smoothie.
Mixed with dried or fresh mint, garlic and chopped cucumbers for a refreshing dip with 100% whole grain pita bread.
On top of vegetarian chili.
Mixed with beans and savory spices for a dip.
Mixed with garlic and diced, seeded jalapenos for a great dip with pita chips.
Mixed with tahini, garlic, spices and mashed eggplant for a sandwich spread.
Use in place of mayonnaise in a tuna salad sandwich mix, or substitute half of the mayonnaise in your recipe with Greek yogurt. Try these 13 delicious sandwich spreads.
Mix with chopped sweet potatoes, herbs, and spices for a healthy potato salad.
Use in place of some of the cream cheese in a baking recipe, such as cherry cheesecake bars, or other fruit and cream dessert.
Read more about the many ways to enjoy Greek yogurt in an interview with nutrition expert Toby Amidor, on her new book, The Greek Yogurt Kitchen and get her absolute delicious Lemon-Blueberry Stuffed French Toast recipe!