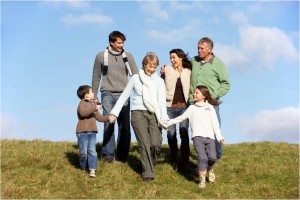 Many of us are still cleaning up crumbs from Thanksgiving, while wrapping gifts for Christmas and Hanukkah. Many are also still "recovering" from turkey overdose, work overdose, and feeling the stress of the next holiday creeping in.
Take a deep breath and remember:  We're supposed to enjoy holidays! If you are already having problems zipping your jeans, stop and consider what you can do now to help you and your family make this holiday season a happy and healthful one that doesn't require a ton of dietary damage control!
First, put away the leftover chocolates, cookies and other treats you entertained with at early December Holiday parties. And do the same with Christmas and New Year's leftovers once those special days pass. Many foods like cookies and homemade candies will freeze well and can make for great surprise desserts in January and February.
In this between-holiday time, which I call the "Holiday Zone," focus on eating the treats that one can only get this time of the year. Don't fill up on peanuts or chocolates—those are just humdrum munchies. It's that special holiday eggnog, peanut brittle, or grandma's special butter cookies that are worth dipping into your calorie budget for—leave all the store-bought temptations alone.
Some families are lucky enough to jump on planes and head to warm weather this time of year. But for those of us stuck inside, quickly running out of kids' activities, ask your kids to help pitch in to make healthy lunches and dinners. Who says that everything you make in "the Zone" must be sweet and artery clogging?
Ask kids to chop up veggies and fruits in order to have snacks ready for play dates or to serve to unexpected visitors. Have them help you assemble a veggie lasagna, which you can strategically call a "triple-decker holiday pizza." (After all, white cheese, red tomato sauce and some green spinach or broccoli makes a lovely Christmas-colored dish!) My kids loved starting with the pre-cooked lasagna noodles as a base, adding dollops of red sauce on top, a layer of spinach next, and then ricotta and mozzarella cheese. A "make your own pizza" night, with personal pizza size crusts, is just as tantalizing.
As for baking, you are not eternally wed to holiday cookies—I'll allow you to break your vows.  I've managed to take the apples that we picked en masse a month ago and peel them to make an apple pie and apple muffins. Reminding the kids that they picked the apples and this will get them interested in helping wash, peel and chop. Remember, involving kids in all facets of cooking (the safe facets, that is) is great for their math skills (measuring ingredients), their science knowledge (the reason we use baking soda, for example), and their motor skills. And besides, anything that gets them off the couch is a great activity.
In fact, although I am a dietitian today and I am able to cook, I didn't often get cooking lessons from my parents. Some of my best lessons were impromptu–on snowy days when my mom just decided to put something together—and she decided to show me how. Now that's quality time together. And the food we made lead to great family meals, too.
So happy holidays to parents, kids, caretakers, grandparents and everyone else we know who will be spending time with you  in "the Zone" this winter.  Cook together, celebrate together, relax together, and most of all, enjoy unique and traditional holiday food.