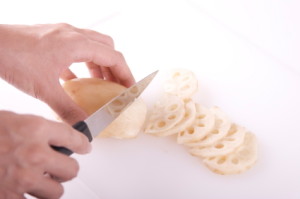 Indigenous to Asian countries, lotus stems are edible roots of the lotus flower and are used as a root vegetable. Learn a bit more about them and see how you like it in this lotus stem recipe!
While growing up in India, I first remember viewing the root as unappetizing but once cut, the shape of individual slices piqued my interest. The lotus stem is a good source of Vitamin C and dietary fiber. The root in its fresh form can be found in any Asian grocery stores or the canned form is available at any Indian grocery store. The raw slices are crunchy and slightly sweet and it's thinly cut slices are often used for snacks such as potato chips and in spicy pickles or 'Kamal kakri ka achar'. Another preparation I make to this day is 'Bhein ki sabzi' or Lotus Stem Curry. Now it's time for you to try this lotus stem recipe!
Ingredients for Spicy Lotus Stem Curry:
Lotus Root – 4 medium stalks (raw), cut into 1″ pieces OR 1 (28 ounce) can
Oil – 2 Tbsp
Cumin seeds – 1.5 tsp
Tomato puree – 1 Tbsp
Water – 1 Cup
Spice Mix:
Turmeric powder – 1 tsp
Salt – To taste
Coriander powder – 5 tsp
Ginger powder – 1/4 tsp
Black Pepper – 1 tsp
Garam Masala – 1 tsp
Dry Mango powder (Amchur) – 2 tsp
Cilantro – For garnish
Directions:
If using raw stems, scrape, cut and wash to ensure that the grooves are clean of any dirt.  Boil the raw pieces in water for about 15-20 minutes till tender. Drain & set aside. If using canned lotus root, wash the canned pieces with lukewarm water.
Mix the spices in a Ziploc bag and shake the lotus stem pieces (slightly damp) till all the pieces are well coated by the spice mix.
Heat oil in a pan or pressure cooker. Add cumin seeds.
Once the cumin seeds begin to crackle, add the tomato puree. Cook for few seconds.
Sauté the lotus stem pieces on low heat for 5 minutes and then add one cup of water and stir.
If using an Instant Pot* or another pressure cooker: Cook on high heat till the first pressure whistle and then let it cook on low heat for 15 minutes. Once the steam has escaped, open the cooker to check the tenderness (similar to a hard-boiled potato). If they are still hard, let it pressure cook for few more minutes. *If cooking in an open pan: Cook for 30-35 minutes at medium heat. Check for doneness and cook for additional 5-10 minutes till desired softness is achieved.
Garnish with chopped cilantro. Serve hot with rice or Indian bread (naan)
Enjoy!