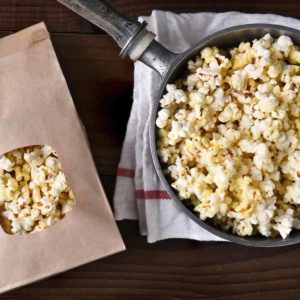 While we may not be having big gatherings this Fall, creating a popcorn bar with these various popcorn bar ideas can be a fun activity with your quarantine partners!
Dig into popcorn at any time of day! This healthy whole grain can be used as a snack, dessert, or even be made into popcorn croutons! Enjoy these vibrant kernels in various colors such as red, yellow, white, purple, and blue. Each comes paired with its unique nutritional benefits!
You can make popcorn eating even more fun with these popcorn bar ideas. At the end of the evening, if there are leftover toppings, make smaller baggies with these flavor ideas for an easy snack for the rest of the week.
Add a pop of color to your day and get inspired by these tasty ways to spruce up your popcorn.
Sample Ingredients for Tasty Popcorn Bar Ideas
air-popped popcorn
healthy melted butter substitute
dried fruit
nuts
nutritional yeast or parmesan
herbs and spices (i.e., rosemary, garlic, dill, parsley, lemon pepper, cayenne pepper, cinnamon)
Italian seasoning or Ranch dressing seasoning mix
sea salt
malt vinegar
buffalo sauce
sugar, honey, or maple syrup
diced apple or other diced fruit
dark chocolate pieces
Modern Twist on Classic Popcorn
Everyone loves a classic. Channel your childhood memories of movie nights, or trips to the fair, but with a healthful twist. Enjoy these old-school favorites with a modern flair that you won't be able to resist.
Old-Fashioned Popcorn
Pour a nice drizzle of healthy melted butter substitute (without any hydrogenated fats) over your air-popped popcorn.
Popcorn Trail Mix
Mix in dried cranberries and roasted unsalted almonds. Or add in raisins, walnuts, pecans, or any of your favorite dried fruit and nut combinations.
Cheezy Popcorn
Sprinkle with cheesy tasting nutritional yeast and salt. This dairy-free alternative is an easy way to boost nutrients and omit the saturated fats found in cheese.
Savory Popcorn Bar Ideas
Butter is out; seasonings are in! Get your fix for a satiating and salty treat by incorporating different herbs, spices, and toppings!
Parmesan-Garlic Popcorn
Sprinkle with parmesan and garlic powder.
Italian Popcorn
Flavor with Italian seasoning and parmesan cheese.
Garlic Popcorn
Season with dried dill, lemon pepper, garlic powder, ranch dressing seasoning mix, and garlic salt.
Salt and Vinegar Popcorn
Combine malt vinegar with sea salt in a spray bottle and mist your popcorn.
Spiced Popcorn Bar Ideas
Add a little spice to your life! Reap the anti-inflammatory, immune, and digestive benefits of spices with this unique popcorn rendition. These gourmet-style popcorns will become immediate household favorites.
Rosemary Popcorn
Add crumbled dried rosemary, salt, and cayenne pepper.
Chili Powdered Popcorn
Spice it up with salt and chili powder.
Sweet and Spicy Popcorn
Flavor with cinnamon, cayenne pepper, chili powder, and a touch of maple syrup.
Buffalo Popcorn
Add hot sauce to a paper bag filled with popcorn and shake.
How to Make Sweet Popcorn
Skip the salt and venture to the sweet side! Hello, caramel corn! Revolutionize your popcorn with healthier versions of this sugary treat.
Apple Cinnamon Popcorn
Include diced or dried apple pieces and sprinkle with cinnamon; serve quickly after combining ingredients to keep apples crunchy!
Sugar n' Spice Popcorn
For dessert, sprinkle with cinnamon and a teaspoon of sugar.
Honey Nut Popcorn
Add peanuts, honey, and cinnamon.
Dark Chocolate Popcorn
Melt dark chocolate (in the microwave or on the stove) and use it as a drizzle, letting the chocolate harden before eating.
Whether you are craving a modernized classic or a new way to please your palate, popcorn is the perfect option! Homemade popcorn seasoning is often healthier than store-bought options. Get creative and experiment with different spices or flavor blends at your very own popcorn bar to add your own unique spin on this hearty grain. You may find a new favorite!