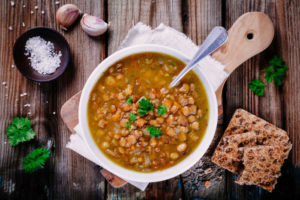 Here's a three-part quick meal that is tasty, high in fiber and pretty much ready-made. Meatless meals have never been so easy!
Making a meatless lunch or dinner that tastes good can seem daunting, but throwing in variety and a few pre-made items can be a game-changer. This meatless meal has three parts in order to maximize the flavor and nutrients.
Sweet potato fries – choose an option below
Frozen sweet potato fries, check the ingredient list for unnecessary ingredients like sugar
Or use fresh-cut sweet potato "fries" in the refrigerator section that you bake at home
Or scrub, cut and cook your own in the microwave then dip in low-fat sour cream and Cajun spice mix. You can also slice them into rounds for sweet potato nachos.
Lentil Soup
Lentil soup is jammed pack with fiber and can meet around 25% of your daily needs. Women under <50 years of age need 25 grams of fiber per day and men < 50 need 38 grams of fiber. Over 50 years of age it's 20 grams and 30 grams respectively. Lentils are loaded with plant-based protein and phytonutrients. One can on average has around 12 grams of protein.
Open a can of low or reduced-sodium lentil soup, add in 1 chopped plum tomato, shake in some of Trader Joe's 21 herb salute or Ms. Dash and heat. I use microwave silicone covers – they keep things clean and are environmentally friendly.
Cheese Tortilla
On top of a corn tortilla, mix two chopped plum tomatoes with a few tablespoons of tomato bruschetta (comes in a glass jar or in the refrigerated section of the grocery store) and a couple of tablespoons of low-fat shredded mozzarella. Place in the toaster oven for 3 minutes.
You've got yourself a 15-minute meatless meal. Eat and Enjoy! Looking for more meals with a plant-based boost? Check out my new book, The Plant-Based Boost Cookbook, 100+Recipes for Athletes and Exercise Enthusiasts.