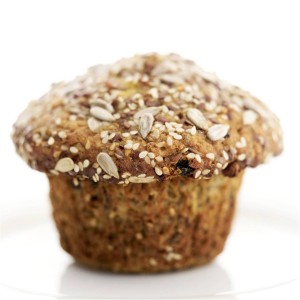 There's nothing better than warm baked goods right from the oven. It feels like home and family. One of my favorite things to bake is bran muffins. Not only are they comforting and steaming from the oven, but this version is wholesome and filling for a quick breakfast- just add some fresh fruit. These get-em-while-they're-hot babies are moist and healthy- you'll never miss the swapped-out fats! Don't forget to get your little chefs in the kitchen. Kids love to help measure and mix.
Bran Muffins for Your Super Kid 
Dry ingredients:
2 cups whole wheat flour
1 ½ cups oat bran
¾ tsp sea salt
1 ¼ tsp baking soda
2 tbsp turbinado sugar (or your favorite sweetener)
Wet ingredients:
2 cups lowfat or nonfat plain yogurt
1 egg, lightly beaten
½ cup honey (SuperTip: spray the measuring cup with nonstick cooking spray first and cleanup's a cinch!)
½ a medium apple, finely grated
½ tsp vanilla extract
Add ins:
1 cup either chocolate chips, raisins, chopped nuts or a mix! You can be creative!
Directions:
Mix wet and dry ingredients separately, then fold dry into wet. Resist overmixing.
Stir in your choice of add ins. My choice is chocolate chips, but Super Crew Kid Penny is partial to California raisins! Spoon into nonstick muffin tins and bake at 425 degrees for about 10 minutes. Check doneness with a toothpick and adjust time as needed.
Enjoy warm and soak in the home-baked energy!