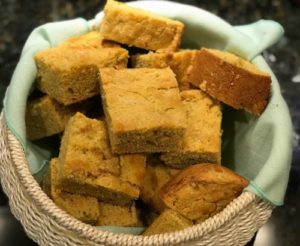 This gluten-free cornbread recipe makes a tasty and hearty food to enjoy at Thanksgiving! Learn many ways to enjoy the ancient grain amaranth!
My cousin and I share a gluten sensitivity –so over the holidays, we like to share our new favorite recipes. This year she made a sweet cornbread recipe with amaranth flour. When baking with amaranth, I've had the most success by combing it with no more than 1/3 of the total flour.
What is Amaranth?
Amaranth is a gluten-free super grain cultivated by the Aztecs, Incas, and Mayans (1). It is classified as a pseudo-cereal because it is a non-grass plant, as opposed to a true cereal, which is a grass. Amaranth seeds can be ground into flour, and although they aren't a cereal, they have similar health benefits to whole grains like wheat and corn (2).
Some species of amaranth are cultivated for their leaves, which taste similar to spinach. Other species are harvested for their seeds, which have a nutty taste with subtle sweet undertones and a sticky, gelatinous consistency when cooked (1).
Amaranth's Nutritional Benefits
Nutritionally, amaranth seeds are a good source of high biological value protein. They contain the two essential amino acids that our body cannot make. Plus they are easy for our bodies to digest and help boost plant-based protein. Amaranth is also a good source of a variety of vitamins, minerals, and fiber, and, as opposed to animal protein, it is low in saturated fat. Amaranth is a naturally gluten-free grain, so it is safe for those with Celiac disease (1).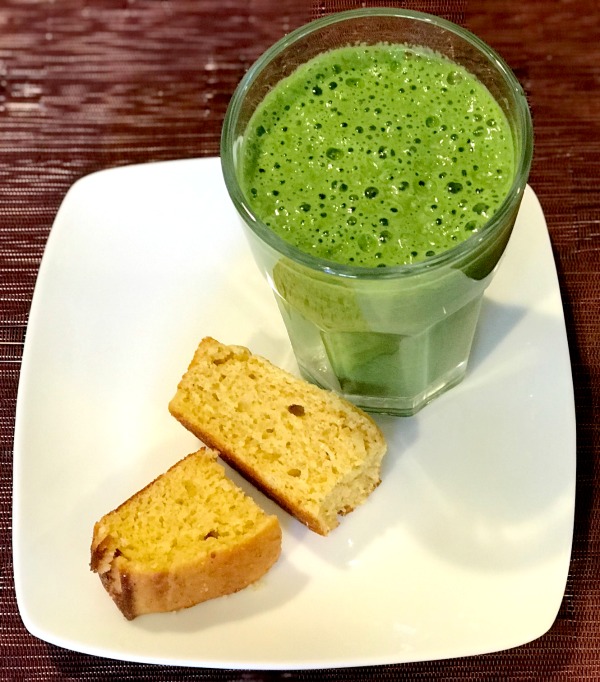 Amaranth may have anti-tumor properties and help with lowering blood pressure. The fiber content of amaranth may help with blood sugar control, lowering cholesterol, feeding the good bacteria in our gut, improving satiety, and reducing the risk of colon cancer. Plus high fiber foods help to lower inflammation so it can be part of an anti-inflammatory diet.
How to Eat Amaranth
You can prepare amaranth in a variety of ways! You can pop the seeds and use them as a salad topping, substitute amaranth for rice, or eat it in the morning as a hot cereal (1). Or you can add it to cornbread like this tasty recipe below. I like eating this cornbread with this apple, ginger, kale smoothie. I just add a big scoop of protein powder to the smoothie to make it a balanced meal.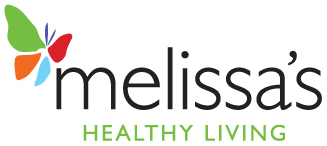 Marie's Amaranth Cornbread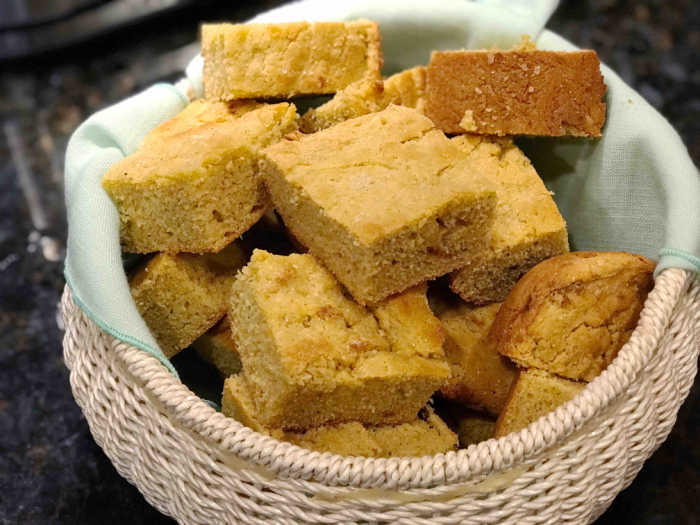 Ingredients
1½

cup

organic cornmeal

½

cup

amaranth flour

¼

cup

white sugar

½

tsp

baking powder

½

tsp

baking soda

½

tsp

salt

1

egg

beaten

5

ounces

non-fat Greek yogurt

½

cup

low-fat sour cream (or 1 cup so they're moister)

⅓

cup

skim or 1% milk

⅛

cup

butter

melted

Sea salt
Instructions
Spray or use olive oil to lightly coat an 8"x8" baking dish.

If you butter the pan and heat it for 5 minutes before adding in the batter, it's so good!

In a large bowl, mix together cornmeal, amaranth flour, sugar, baking powder, baking soda, and salt, then set aside.

In a small bowl, beat egg then add in Greek yogurt, sour cream, milk, and melted butter.

Fold the wet ingredients into the dry ingredients, mixing until just incorporated.

Transfer batter into the prepared pan, and bake for 20-25 minutes. It is done when the surface is golden brown and a toothpick inserted into the center comes out clean.

Remove from oven, lightly sprinkle with sea salt, serve, and enjoy!
Looking for more healthy ideas like this gluten-free cornbread recipe? Next, check out other healthy holiday eating tips for this Thanksgiving!
References:
 Advanced Nutrition: Super Foods for the Family
Enjoy this Article? Share the Love!