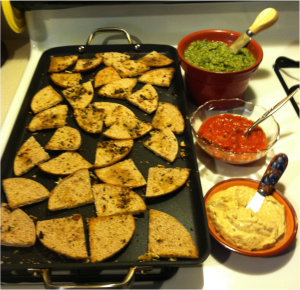 Having company?  Here's a healthy and easy appetizer that could also serve as a family dinner with a side salad.
Cut 100% whole-wheat sandwich thins into four trianges and lay them onto a heated pan.
Add lots of grated dried rosemary and garlic -sometimes you can buy this in a pepper like grinder to save a step.
Spray some olive oil and flip the sandwich thins over in a couple minutes.
Make or buy dips.

Here's a healthy home made pesto made with fresh basil leaves from the garden, olive oil and parmesan or locatelle.
A bruschetta with chopped olives, mushrooms and red peppers.
Hummus with chopped garlic and chipote spices.

Don't forget to get the kids involved in easy food preparation steps -they'll be more likely to try a dip.  They can cut the olives with a plastic knife, use spray oil and mix together ingredients. If this is your dinner, they can also help prepare a side salad.