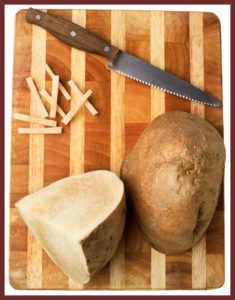 Jicama is a delicious vegetable that is very popular in Mexican cooking. It is mostly grown in Central America or in Mexico, but is thought to have originated in the Andes Mountains. A relative of the potato family, jicama is a root and it very much resembles a rounded potato from the outside. It's popularity increased during seasons of drought when potatoes did not grow as easily. Despite it's ability to thrive in drier conditions, jicama is actually juicy and perfectly refreshing. The flavor is sweet and succulent, and the flesh is white, similar to an apple, but unlike an apple, it does not turn brown after being cut. It can be eaten in a variety of ways, including salads, salsas, and vegetable platters, or even on its own as a healthy snack. It's very low in calories and high in fiber, which is good for your gut health! One jicama has around 35 calories and 5 grams of fiber. Not sure how to eat jicama? Here are some simple ways to try one:
First, be sure to select a jicama that is round and firm to touch.
Always wash and peel a jicama (like you would a potato).
Slice it up julienne style and add orange juice and fresh cilantro and mix together for a simple crunchy salad.
Dice it up and add to a salad with sliced almonds and your favorite vinaigrette dressings.
Cut into thicker slices and dip in hummus or guacamole for a light snack.
Try a jicama slaw: easy to shred, and a great consistency, jicama is a great substitute to cabbage for cold slaws.
Or jicama chips!