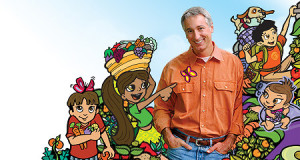 Here's an excerpt from SuperKids Nutrition's  interview with Joe L'Amp, the Joe behind "joe gardener"®, that shows you simple steps to take to introduce kids to gardening.
Make it easy by starting with seeds so kids can see them grow. They'll be amazed. It's easy to hook them in when they take ownership. You can start with a little plot of land or a few pots. But get them involved early in the process.
Start with seedlings – you can use a kit, yogurt cup or any small pot. Just be sure that whatever you use has a hole for drainage. Seed and plants can rot if the soil stays too wet. Bring them indoors and keep them by a window.
Kids will love monitoring the seedlings progress before they go to bed each night and when they wake up first thing in the morning. It's good to start seedlings inside early in the season since it's too cold to start growing warm season plants outside in colder months. (If you wait until after the last expected frost date in your area, you can plant directly outside instead of starting seedlings, if you prefer.)
 Once the seedlings are growing strong –transplant to a pot or your garden plot. Check out Joe's garden blog to guide you through the steps to grow a family garden.
 Read the full interview with joe gardener® and get started on a family garden today!