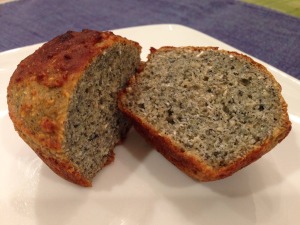 I've always loved blue corn. As a child I remember my mom buying blue corn kernels at Easter, which popped up bright white. Then a few year later, she bought blue corn chips and blue corn taco shells and again the rich color offered so much visual appeal. Now you see blue and red corn in most mainstream grocers. Times have changed! Blue corn contains anthocyanins, which may offer protection against certain types of cancers. So try including all colors of corn in your diet, from yellow corn in these tasty breakfast tacos, to baked red corn chips or these blue corn muffins below.
Ingredients:
1 cup gluten-free oat flour, alternatively you can buy gluten-free oats and use a food processor to blend them into flour
1 cup blue cornmeal
¼ cup of honey or less per your sweetness preference
¼ cup cashew meal, you can substitute almond meal
1 tsp of guar gum
1 tsp of baking soda
¾ teaspoon of salt
1 cup of plain non-fat Greek yogurt
2 eggs, beaten
Directions:
Preheat oven to 400 degrees Fahrenheit.
In a large bowl mix all try ingredients together.
In a separate bowl mix all wet ingredients.
Add wet ingredients to dry ingredients until well blended.
Spray muffin pans with oil and pour in batter.
Bake 18 minutes but check at 15 minutes.

 

Bake until muffins cooked through or spring back at the center when pressed.
Let them cool a bit before eating. I know it's hard to wait!
Makes 12 servings