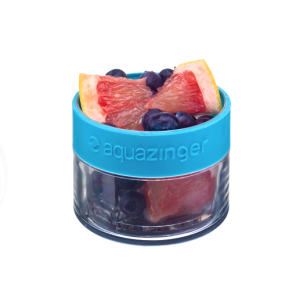 Hey Readers!  I'm Becca, an ACE-certified personal trainer and a graduate level nutrition student.  Fitness and nutrition are my life's passions, both recreationally and professionally.  In a recent conversation with Melissa, she asked me to share some of my indispensable, stay-fit gear and gadgets.  Here are some of my favorites:
AquaZinger water-infusing re-useable bottle
Stay hydrated with this high quality, double-walled, stainless steel hot/cold water bottle.  Maximize flavor and antioxidant content by adding fruit or herbs to the built-in bottom-mounted grinder.  Enjoy your zero-calorie beverage!
High-Quality Gym Apparel
Pancake boobs, awkwardly stitched pants (you know what I mean), and the embarrassing lingering sweat smell from cheap materials are just some of the woes of ill-fitting, poor quality sports apparel. Finding high-quality, flattering brands is key to avoiding embarrassment and bolstering confidence at the gym!  I am absolutely addicted to Lorna Jane's apparel for their flattering fit and beautiful designs.  My closet is also home to many Athleta, Nike, and Under Armour pieces.
Glass Snapware Food Containers
Weight management is all about preparation.  I like to cook large batches of healthy fare on Sundays and store them in glass containers for the week.  Not only do you always have healthy food on hand, but you also save money and time while managing your weight.  These pyrex containers are the perfect way to store leftovers for the week.
Zojirushi Mr. Bento Stainless Steel Lunch Box
I bought this for my boyfriend who spends long hours at school with limited access to hot, healthy food options.  This amazing little lunch box comes with several stackable bowls and is vacuum-insulated, which keeps food either hot or cold for an entire workday.  The Zojirushi Mr. Bento Lunch Box offers portion control and the convenience of not having to search for a microwave.  I now recommend this to all of my clients who are constantly on the go.
Nutribullet Pro 900 
I am big fan of convenience and efficiency, so I love the space-saving design of this little machine, as well as its blend-and-go convenience; no immediate need to wash anything!  It is also great for creating small batches of sauces, soups, and frozen desserts. It's a very loud so if your sensitive to noise it may not be the best fit.
Cuisinart MSC-400 3-In-1 Cook Central 4-Quart Multi-Cooker: Slow Cooker, Brown/Saute, & Steamer
Crockpots are cool again-at least I think so!  Who doesn't like to press a button as they leave for work in the morning to return home to the enticing aroma of a hot meal?  This machine comes in 4 and 6 quart options and offers the ability to steam and saute right in the unit.
These products have made my stay-fit journey fun and easy.  Please give them a try and feel free to submit any questions, comments, or concerns.  Fitness, health, and happiness!