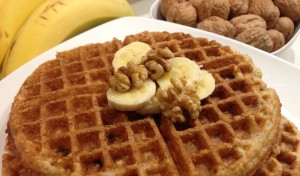 Enjoy these banana oat waffles for breakfast, as a snack, or as breakfast for dinner. They're full of flavor and nutrients, plus you can make them into pancakes too!
This post contains an affiliate link. As an Amazon Associate, we earn from qualifying purchases. The link is noted with an asterisk (*) or Amazon image.
I love oats! They are one of my favorite whole grains. Loaded with a type of fiber, called beta-glucan, they help lower cholesterol and may help your immune system fight off bacteria. I blend gluten-free whole oats in my food processor until they are a flour consistency. The flour is so light and airy in waffles that it feels like I'm eating a refined dessert. Instead, I'm getting all the benefits of vitamins, minerals, fiber, and phytochemicals found in whole grains. Whole grains are associated with longevity and a lower risk of heart disease and several types of cancer. Instead of following the latest fad diet, choose to include whole grains and give ancient grains a try too! If you're concerned about pesticides used in grains, choose organic. But don't give them up as they provide essential nutrients vital for brain and heart health.
If you're in need of a good waffle maker, I love Cuisinart's Classic Waffle Maker*. I make these in bulk and free them in portions of two. You can place them in the refrigerator to defrost the night before and eat them on the go without syrup or sit down and with a side of yogurt and fruit and make it a meal. I love these as breakfast for dinner.
Gluten-Free Banana Walnut Oat Waffles
Ingredients:
2 cups oat flour (blend oats for 30-60 seconds until smooth)
4 teaspoons of baking powder
1/4 teaspoon of salt
1/3 teaspoon of cinnamon (optional)
2 eggs
1 banana, mashed (fresh or defrost a frozen banana). Use up to 3 bananas for a sweeter taste.
1 3/4 cup of unsweetened soy milk (you can use cow's milk or any plant-based milk
1/4 cup of walnut oil or organic canola oil
1 teaspoon of vanilla extract
crushed or whole California walnuts (mix in batter or use as toppings)
maple syrup (pour in a small dish and dip your waffle)
Directions:
Mix all dry ingredients in a bowl.
Mix all wet ingredients in a separate bowl.
Mash a banana on a plate, then mix into wet ingredients.
Pour wet ingredients into dry ingredients and whisk until bubbly.
Makes about 6-8 waffles
Want to experiment with oats a bit more? Try my Best Ever Gluten-Free Zucchini Muffins.
A version of this fantastic recipe is featured in my recent cookbooks! Check them out for more tasty ideas!