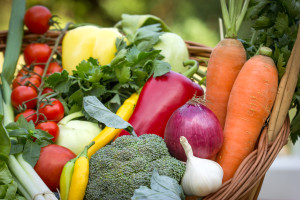 Did You Know?
1 out of every 3 kids in the United States is either overweight or obese.
When scientists conducted autopsies of 2,876 accident victims aged 15 to 34 years, they found that 60% of those between 15 to 19 years already had atherosclerosis (fatty deposits in the artery walls). That's alarming!
The average American, kids included, consumes 22.2 teaspoons of sugar or 355 additional calories from pure sugar every day.
What Can We Do?
Eat your colors with the Super Crew! That's one easy way to reach a healthy weight, protect your heart and eat less refined sugar.  Choose a variety of colorful, whole foods every day.
Color Your Diet!
Brown foods include whole grains like mahogany rice or whole wheat bread, figs, brown pears, walnuts, cinnamon, kidney beans or spelt noodles. Brown foods are Kira's favorite to levitate!
Black foods include lentils, black soy beans or blackberries.
Beige and White foods include jicama, golden quinoa, white beans, garbanzos beans, cauliflower, bananas, or sweet onions. White foods are Carlos' favorite!
Red foods include pomegranates, raspberries, red quinoa, beets or rhubarb. Red foods get baby Tom-Tom moving!
Yellow foods include pineapples, squash, or star fruit.  Try spaghetti squash in place of white, refined spaghetti for added fiber, vitamins and fight-o-chemicals. Marcus loves yellow foods to help him grow his best!
Blue foods include blueberries or blue corn chips. Super Baby Abigail loves blue best, but her super powers are fueled from all the colors.
Purple foods include eggplant (give it a try in Baba Ghanoush!), red cabbage (which looks purple), blood oranges (which can be  purple inside), and purple potatoes. Penny moves at super speeds with purple foods.
Green foods include avocado, Swiss chard, cilantro, sugar snap, Brussel sprouts, peas, or kiwis. Jessie loves the different shapes, variety and tastes of green foods best!
Orange foods include mango, oranges, pumpkin, orange baby tomatoes, sweet potato and apricots. Andy makes sure to eat orange foods everyday!
3 Steps Get Your Colors Going!
1. Stay on Track!  Use our Super Crew Color Tracker to track your family's colors during National Nutrition Month.
2. Get motivated and share your goals. Write your health goal for National Nutrition Month on SuperKids Nutrition Inc facebook page. What is your goal?
3. Get cooking with color. Take a look at your breakfast, lunch and dinner plates–make them beautiful and bursting with color!