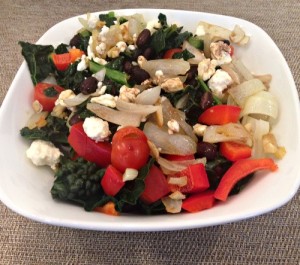 As you may have noticed, there are no amounts on this recipe! Use as little or as much of you want of each ingredient. I typically use organic ingredients for the kale, tomatoes, and vegetable broth because these can be higher in pesticides or fungicides. I love this meal because it's savory and takes less than 10 minutes to prepare. It's my go-to quick meal on busy days.
Ingredients:
Chopped onion
Minced garlic
Extra virgin olive oil
Vegetable broth
Chopped red pepper
Chopped kale
A few cherry tomatoes, halved
Black beans
Feta
Soy sauce (or Braggs liquid amino acid)
Balsamic vinegar
Directions:
Add the chopped onion and garlic to a sauté pan with a little extra virgin olive oil. Sauté over medium heat for about 1-2 minutes until golden.
Add some vegetable broth and red peppers and cook for 1 minute.
Pour more vegetable broth in a pan, add the kale, and cover with lid. Cook for about 2 minutes at medium heat.
Add the tomatoes and black beans. Heat for about 1 minute.
Toss all the cooked ingredients into bowl.
Top with feta and add about 1/2 teaspoon each of soy sauce balsamic vinegar.
Toss the ingredients for equal taste distribution.
Eat and enjoy!
Check out my other Kale recipes.