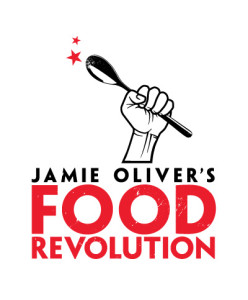 If you haven't watched Jamie Oliver's Food Revolution yet, it's time to tune in!  His genuine approach and dedication to making kids healthier is inspiring. SuperKids Nutrition Inc hopes America is listening and will begin to recognize what REAL food looks like.
Jaime's message really resonates with me as a parent, teacher and Registered Dietitian. When I became a mom I felt the need to encourage parents to feed their kids healthier – to show them the light, so to speak. There are tremendous physical and mental benefits that children and families can achieve through eating healthy and being fit.
As a new mom, it saddened me to watch other moms give their kids alphabet cookies (hearing them exclaim, "Aren't they so cute?"), fruit roll ups ("It's fruit right?"), low fat girl scout cookies ("They're only 110 calories -they must be good?") at play group and kids classes at 10 in the morning. My daughter would eye their pretty packaging as she ate fresh blueberries and real cheese.  I wanted to inspire parents and teachers to feed their kids right from the start of life.
Did you Know?
Research has clearly demonstrated that children establish food preferences and dietary habits during the first six years of life.
This is the time where we have the greatest influence on shaping their lifelong eating habits.
What and how you feed them now will influence what and how they eat for the rest of their lives.
I teach functional foods and wanted each mom to instantaneously know all that I learned through my studies: How lutein and xeanthanin are in the retina of their children's eyes and how green leafy vegetables provide these important nutrients for sight; That blueberries, as opposed to fruit roll ups, may help prevent against UV damage and help their little minds retain memories of all their newly acquired knowledge. Like Jamie Oliver, I set out in my own way to start a food revolution.
SuperKidsNutrition.com is now referenced in websites across 16 states, where we feature parent nutrition questions and provide answers. Our learning activities, coloring pages, and nutrition adventures are reaching families across the US.
If we all commit to spreading the word that healthy living is worth it –we can each be part of the Food Revolution by contributing in our own way to create a healthier America. Thanks to Jamie Oliver the message is getting louder!
Considering that today we spend twice as much money on healthcare as food, and decades ago it we spent twice as much on food as healthcare –you can imagine just how far we have to change in our thinking.  But take one look at a child and you'll know it's totally worth it!
The real Food Revolution begins at home, with committed parents.  It's not hard to start with a small step, like including another serving of real fruit or vegetables to your meal and offering it to your child. Small changes can lead to big results!