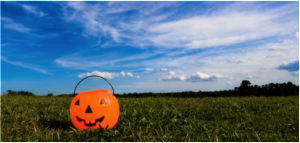 Before you got trick-or-treating make sure your kids have a healthy snack or healthy dinner
Make sure you check your children's candy before they eat it
Give yourself and your kids permission to throw out the less desirable candy, see how many "basket shots" you can make in the trashcan
Remember to keep eating healthy foods like fruits and veggies during Halloween week to help balance out the sweet treats
If your children's school is hosting a Halloween party, offer to bring something healthy like trail mix, popcorn, fruit salad or pumpkin muffins. There will still be plenty of sweets! Or consider bringing some spooky little toys or Halloween themed pencils.
Most importantly, remember don't use candy as a reward for good behavior.