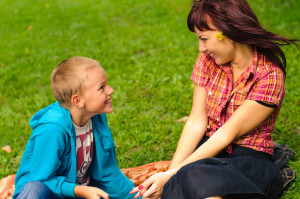 With childhood obesity on the rise, it is important to encourage physical activity and put a limit on the amount of sedentary activities your child participates in.  Children's lifestyles are very different from their parents'.  TV, videogames, and computers are now replacing the neighborhood kickball game.  Children are spending more time sitting and less time playing, so as a parent it is your responsibility to change this.  Here are some family fun fitness tips:
Schedule regular times for fun physical activity
Have everyone take turns selecting an activity for the family to do each week. Be creative -make up your own version of traditional games with a twist.
Replace sedentary screen time with exergames or Wii Fit
Buy toys or equipment that promote physical activity (ex: balls, jump-ropes, bike)
Spend as much time outdoors as possible
Discover which free and low-cost physical activity areas are near your home (park, bike trail, hiking trail, tennis court, swimming pool, etc.)
If you play baseball have the whole family run the bases
Set a good example and exercise yourself
Help each member of the family find something physically fun that motivates them to be active.
Remember:  It does not have to cost a lot of money to get the family active!