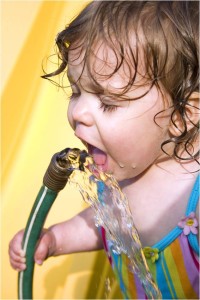 Drinking water is the best way to stay hydrated

6-10 cups a day varies with age, refer to SuperKids Nutrition water article
Children get dehydrated faster than adults
Pack a reusable water bottle to school and work

Offer fat-free or 1% milk to your child over the age of 2, or calcium and vitamin D fortified soy milk (non-genetically modified soy)

Milk contains calcium, which is needed for growing strong bones.

Juice

Mix ½ 100% fruit juice with ½ water
*Do not use powder juice or add sugar to juice mixes –these drinks contribute to too much weight gain and are not good for your family's health
Avoid artificial sweeteners –see https://www.cspinet.org/reports/chemcuisine.htm
Limit juice to no more than 6 ounces a day.
Never put juice or soda in baby's bottle

Agua frescas – homemade without added sugar is a nice treat
Jamaica (hibiscus tea) or herbal tea (caffeine free) without added sugar is a good alternative
My family loves Tzao passion and wild sweet orange teas. We combine them together and add water to make a pink drink. My daughter loves bringing it to school and having the kids guess what it is.
Try sparking water or club soda with sliced lemons, limes, or oranges for a fun alternative to water or soda.
Water with cucumber slices is refreshing.
Water Tasting
Make 4 different varieties of water with the kids for them to try

Water with Orange slices
Mint water
Raspberries in ice cubes placed in water
Cucumber or Jicama water
Now -Think about What Drink by setting a STOP/START/KEEP GOAL
Start
Example: Drinking water during school days by packing a reusable BPA free water bottle.
__________________________________________________
Stop
Example: Stop packing lemonade with artificial chemicals in my child's lunch bag and pack herbal tea water instead.
__________________________________________________
Keep
Example: Keep including fat free or 1% milk for strong bones in healthy whole grain cereal in the morning.
__________________________________________________