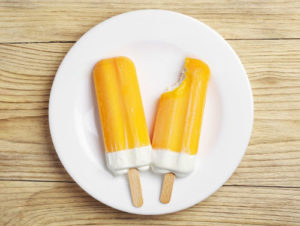 Here are a few tasty and "healthy-ish" cool treats to make when you want something sweet!
This is reminiscent of orange creamsicles from my childhood but without the artificial food dye and additives. I love vanilla bean ice cream. The kind with just a few real ingredients I can recognize as foods. My favorite is Breyers vanilla bean but I can't keep it in the house, because I'll want to eat it too much!  I  buy it when we have company so it won't linger in the freezer calling my name, "Melissa, just one small scoop…" If you haven't tried vanilla ice cream with OJ you're missing out! Here are four cool treats to add to your list of go-to treats for any time of year.
Orange Creamsicle Delight
Ingredients:
1 cup of fresh or store-bought fresh-squeezed orange juice
½ cup Breyers vanilla bean reduced fat ice cream
Directions:
Mix ice cream with a spoon into juice.
Enjoy the little floats of unmelted vanilla ice cream with the tangy and sweet flavored juice. These also taste great as popsicles.
Frothy Banana Shakes
Frozen bananas make everything sweet, frothy and better tasting. They're always a key staple you can rely on for shakes or healthy treats.
Ingredients:
1 to 1 ½ cup of organic soy milk
1 ½ to 2 frozen bananas (I peel and break bananas into 3 sections just before they get too ripe, then stock them in a gallon-size zip-lock bag in the freezer)
1 tsp Tahitian or Bourbon vanilla extract
½ tsp cinnamon
Dash of nutmeg
Directions:
Blend until smooth –serve in a big glass frosted mug. So delicious!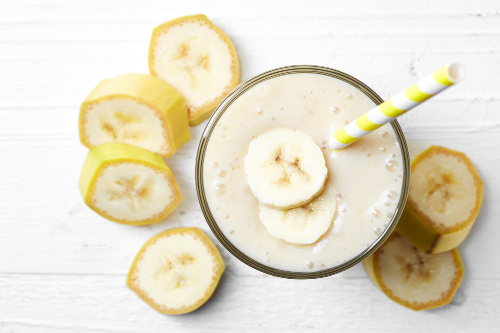 Pomegranate Orange Pops
Pomegranate juice provides a huge boost of antioxidants, which are important for athletes and fitness enthusiasts. These juice pops are perfect after a hot outdoor workout, like a run, hike or serious outdoor gardening.
Ingredients:
Orange juice
Pomegranate juice
Directions:
Mix equal portions of pomegranate juice and orange juice into popsicle molds or Dixie cups.
Grape Juice with Lemon Zest Purple Slushes
My favorite summer treat is Concord grape juice slush! These take me back to my front porch and lots of fun summer memories. Lemon zest gives pops, smoothies, and desserts extra flavor and flair.
Ingredients:
Concord grape juice
Lemon zest
Directions:
Grind up lemon peel after removing as much as the zest as you can. Use 1/8 teaspoon of zest to 6 ounces of juice.
Pour grape juice into popsicle molds (reusable squeezable silicone molds are earth-friendly and fun) or 6 oz Dixie cups.
I like to let them thaw slightly, either in the sun for 10 minutes or very briefly in the microwave for a nice slushy treat. I never get tired of these cool treats and look forward to them every summer.