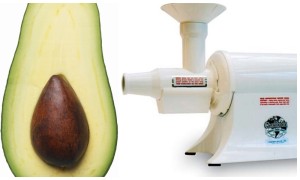 My daughter complains about my homemade guacamole turning brown when I pack it for an after school snack, despite loading it up with lime juice. So I decided to try homogenizing it with my Champion Juicer. It worked! Now she wants me to pack it all the time, so these ingredients have become a staple.
Ingredients:
2 ripe California avocados (I choose domestic over foreign food whenever possible)
2 jalapeño peppers
1/5 of a medium purple onion (or 2 shallots)
Juice of 1 lime (keep at room temperature before juicing to get more juice)
2 to 3 garlic cloves per your preference
1/2 teaspoon of cumin
Directions:
Wash veggies
Peel garlic
Peel California avocados and remove from seed.
Cut 1/5 of purple onion into 3 sections
Remove seeds from jalapeño and cut into 3 sections
Place avocados, jalapeño peppers and purple onion in bowl and add cumin by evenly distributing it across bowl.
Juice limes

Add the lime juice to the bowl of ingredients. Then, feed all the ingredients into the

 Champion Juicer Homogenizer
We pack this guacamole with a side of baked blue corn chips for my daughter's after school snack. I enjoy adding it to dressings, bean dishes and as a sandwich topping.  Eat and enjoy!