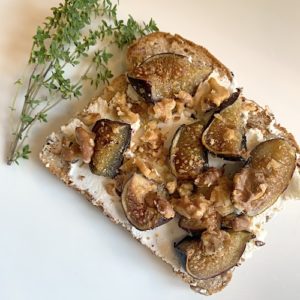 This toast topped with roasted fig and goat cheese accompanied by walnuts and balsamic vinegar is full of flavor.
Go fig-ure, it can be challenging to find a perfectly ripe fig. They ripen quickly and their harvest season is short-lived. Talk about a fruity dilemma! However, fresh figs are worth the seasonal rush since they are a sweet treat that packs a nutritional punch. Specifically, figs are high in soluble fiber, which acts as a prebiotic to promote healthy gut bacteria and digestive function. (1)
Health Benefits of Figs
In fact, 3 fresh figs provide 4 grams of fiber. (2) A good rule of thumb is 25 grams of fiber per day. For reference, under 50 years of age, women need 25 grams of fiber per day and men need 38 grams per day. After age 50, women need 21 grams per day and men need 30 grams a day. Figs are also a good source of heart healthy minerals, such as potassium and calcium. (2). They're a true nutritional powerhouse!
Compared to other fruits, figs have more of the heart-healthy minerals calcium and potassium. (4-6) For a heart-healthy boost, add chopped dried figs into yogurt, oatmeal, or baked goods.
Add some zest to your diet with figs of all colors, each packed with its own unique health benefits. Dark purple figs (either Brown Turkey or Black Mission varieties) are rich in anthocyanins, a phytochemical that promotes brain health. (3) The aptly named candy-striped figs or green types (Adriatic, Calimyrna, and Kadota) are rich in vitamin C and have a beautiful raspberry color centered. (2) As they ripen (it happens quickly), a bowl of fresh figs can reserve as a reminder of Mother Nature's beautiful creations.
Other Ways to Enjoy Figs
Get your fill of figs while they are still in season! But, to enjoy this delicious fruit at any time of year, all it takes is a quick roast in the oven. The sugar caramelizes and preserves the figs oh-so-sweet flavor to enjoy at a moment's notice. Enjoy them on toast, yogurt, or arugula salad with a balsamic drizzle. Roasted figs can also be paired with a cheese platter and omega 3-rich walnuts for a sweet yet savory snack. Or, give this fig walnut toast recipe a try! For a dairy-free or vegan alternative, substitute the goat cheese for a plant-based option, such as Kite Hill. Go fig or go home!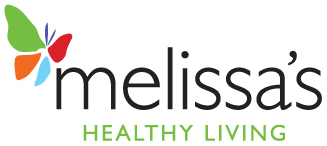 Roasted Figs with Goat Cheese Toasts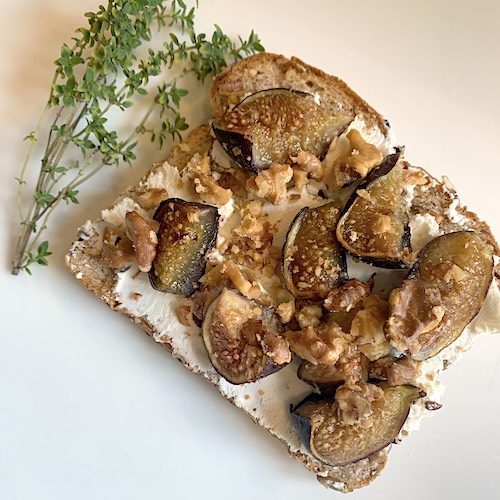 Ingredients
8

fresh figs

½

cup

chopped walnuts

2

tablespoons

balsamic vinegar

4

slices

whole grain bread

4

oz

creamy goat cheese
Instructions
Preheat the oven to 375°F. Line a baking sheet with parchment paper.

With scissors, snip the stems off the figs. Cut each fig into quarters.

On the baking sheet, place the figs on one side and the walnuts on the other side.

Drizzle the figs with the balsamic vinegar.

Roast the walnuts and figs for 10 minutes.

Remove the walnuts from the baking sheet and set aside on a plate to cool. Keep roasting the figs until the juices start to caramelize. Approximately 5 minutes.

Toast the bread. Spread 1 oz of goat cheese.

Remove the figs from the oven. Top each piece of toast with 8 roasted fig quarters and 2 tablespoons of walnuts. Enjoy!
References
Pourmasoumi M, Ghiasvand R, Darvishi L, Hadi A, Bahreini N, Keshavarzpour Z. Comparison and Assessment of Flixweed and Fig Effects on Irritable Bowel Syndrome with Predominant Constipation: A Single-Blind Randomized Clinical Trial. Explore (NY). 2019;15(3):198-205. doi:10.1016/j.explore.2018.09.003
Resources: Nutrition Professionals. California Figs. https://californiafigs.com/resources/nutrition-professionals/
Rendeiro C, Vauzour D, Rattray M, Waffo-Téguo P, Mérillon JM, et al. (2013) Dietary Levels of Pure Flavonoids Improve Spatial Memory Performance and Increase Hippocampal Brain-Derived Neurotrophic Factor. PLOS ONE 8(5): e63535. https://doi.org/10.1371/journal.pone.0063535
Alamgeer, Iman S, Asif H, Saleem M. Evaluation of antihypertensive potential of Ficus carica fruit. Pharm Biol. 2017;55(1):1047-1053. doi:10.1080/13880209.2017.1278611
Resources: Nutrition Professionals. California Figs. https://californiafigs.com/resources/nutrition-professionals/
Nutrition Information for Raw Fruits, Vegetables, and Fish. Food and Drug Administration. Last Updated December 27, 2017. https://www.fda.gov/food/food-labeling-nutrition/nutrition-information-raw-fruits-vegetables-and-fish
Enjoy this Article? Share the Love!