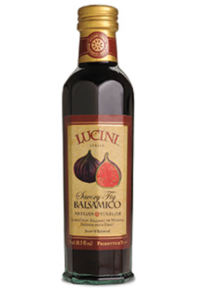 Some people love luxury goods. They just can't wait to buy that designer handbag or perfect pair of designer shoes! I'm that way about food and fitness gadgets. Here are some of my favorite lavish food items.
Lucini Italia Savory Fig Balsamico artisan vinegar. Seriously, I could drink this stuff! It's fantastic in this blood orange and fennel salad. I love it added to coleslaws, veggie slaws, roasted vegetables, in a glaze for salmon and in salads. But for the more adventurous food connoisseur, you can serve it over vanilla ice-cream, enjoy it in a cocktail or drizzle it over arugula placed on top of a Margherita pizza. Make sure you refrigerate after opening.

Navitas Super Cacao Nibs. Yum! I love the chocolatey raw earthy taste of these tiny bits. They also help me avoid my dark chocolate bar addiction. They have beneficial polyphenols, a type of powerful plant compound called phytochemicals. In just one ounce you get 9 grams of dietary fiber and 64 mg of magnesium. There's no added sugar either. My absolute favorite way to eat them is with frozen heated sweet cherries. I put about a cup of frozen cherries in the microwave or stove top with 1-2 tablespoon of cocao nibs and heat for about 90 seconds. I occasionally add them to my breakfast of fruit, yogurt, walnuts and cinnamon. They are delicious sprinkled over nut butter with frozen banana slices or on top of a brown rice cake with ricotta cheese, raspberry jam and sliced dried figs.
White Dried Mulberries. I've tried and liked several brands. Shop around for the best price and stock up when on sale!  These taste similar to gummy candy, but better and more natural! I'll add them to yogurt, salads or as a side to accompany a meal. We used to have a mulberry tree in front of our sidewalk, but lost it during a wind storm. The neighborhood kids would bring a ladder and collect them each season. They made a BIG mess on cars that parked underneath the tree. How I wish I would have collected them and dried them. I like them so much more dried than fresh.