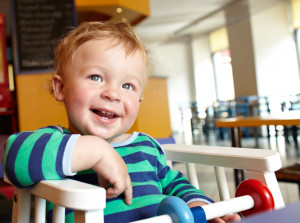 Unless your in-laws (or parents, friends, etc.) happens to be a medical doctor or dietitian, you should seek real medical advice. Talk to your doctor and get his/her honest opinion. Even healthy kids can go through a chunky stage, but still remain within a normal growth pattern. It's important to look at family history and track weight and height on a growth chart with your physician. If the physician is concerned, you can ask for a referral to see a Registered Dietitian to help you plan quick, healthy meals and snacks and assess his overall nutrition status.
Evaluate Your diet. Are the majority of the food choices your family makes healthy?
I usually recommend aiming for about 90% of your food choices and calories to be healthy for your body and 10% to be "indulgent" calories.
Keep in mind that even reduced fat ice cream has calcium, which is good for your bones.
Start including more fruits, vegetables, whole grains and beans in your diet. If you haven't made the switch to low-fat or skim milk, or reduced-fat or low-fat cheese, start to gradually make these changes.
Prevention Starts Early
If you have young children it's important to know that overweight prevention should start at age four.
By the age of six, children of overweight mothers are fifteen times more likely to be obese than children of lean mothers.
Looking at today's adult statistics of overweight and obese adults, three out of 4 teens will become overweight or obese adults. This is not a vanity problem, rather a health problem as kids are being diagnosed with diseases such as type 2 diabetes and high cholesterol. Heart disease, sleep apnea, and other problems are also increasing in young adults.
Proceed With Caution
Talking to your physician can help you determine whether you should be concerned now and try to prevent weight or health problems later.
You want to be careful not to create an unhealthy relationship with food for your kids, which is correlated to eating disorders in tweens or teens.
Get the whole family moving! Make family fitness a fun and routine way to spend time together.
Discover more with Homework -Play Everyday