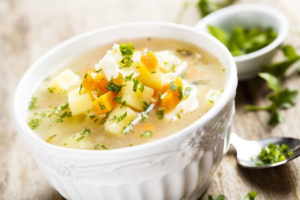 Making homemade vegetable broth is super easy, reduces food waste, and can save money! Learn how you can start collecting veggie scraps now to use in fall soups.
Inevitably when we are cooking with plants, we end up with a pile of tops and bottoms, herb stems, roots, stalks, skins, and other miscellaneous parts. Rather than throwing these bits away, keep them in a bag in your freezer. Once your veggie scrap bag is filled up, use this recipe to turn those miscellaneous discards into a delicious homemade vegetable broth.
Reducing Food Waste
With a veggie scrap bag, you'll always have the ingredients on hand to make a delicious vegetable. Whether you sip it by itself during the cold winter months or add it to soups and sauces, this is a fabulous way to reduce food waste (with the bonus of a nutrient boost!). Learn additional ways to decrease food waste, to help keep our air, water, and earth clean, and save money by reading, 10 Food Tips You Haven't Heard for Reducing Food Waste, and 5 More Ways to Reduce Food Waste.
Homemade Vegetable Broth
Yields about 6 cups of broth
Ingredients:
1 Tablespoon extra virgin olive oil
About 6 cups vegetable and herb scraps (cleaned well – carrots, onions, garlic, and celery work well)
About 6 cups cold water
Optional: turmeric, tomato paste, bay leaves, salt, pepper (to taste)
Directions:
Heat a large pot over medium heat. Add oil and aromatics (carrots, onions, garlic, celery) and cook for about 5 minutes until mixture starts to brown, stirring frequently.
Add the rest of the food scraps, water, and any optional, additional seasonings. Bring to a boil then reduce heat and simmer partially covered for an hour.
Strain and use immediately or allow to cool before storing in airtight containers in the fridge (store up to 5 days) or freezer (store up to a month).

Pro Tips for Making Homemade Veggie Broth
Summer is the perfect time to start collecting scraps from all of your produce! Keep the scrap bag in your freezer for up to 2-3 months. Be sure it's airtight, then label and date it!
One or two days before you plan to make the broth, move your veggie scrap bag into the refrigerator so the veggies can thaw before use.
Try out different oils to match your taste preference! For a more neutral flavor try grapeseed oil.
Add fresh or dried herbs and spices for their brain-boosting power!