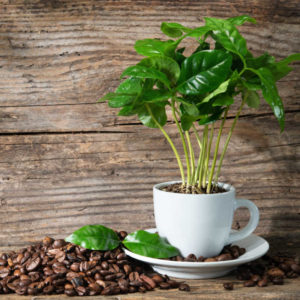 Grab your cup of coffee, learn more about coffee and climate change, and discover ways you can help save our precious beans!
For many Americans, climate change, aka global warming, doesn't seem to appear to be impacting our day-to-day lives. You may even think, "How big of a deal is a few degrees, anyways?" But how would you feel if I said climate change will take away some of your food choices, and worse yet, your coffee?
Climate Change and Our Food
According to the most recent Intergovernmental Panel on Climate Change (IPCC) report, many studies have found that climate change is, and will continue to be, harmful to the production of crops. (1)
Crop production yields for maize, wheat, and soybeans have decreased by 4.1, 1.8, and 4.5% respectively from 1981 to 2010. (1)
Global warming can also cause changes in rainfall patterns, as well as increase pests and diseases, and disruption of pollinators, which are crucial to a number of crops we rely on for food. (1)
Our crops aren't the only food source being affected by these changes. Livestock and fish production are being impacted, too. Not to mention poor air quality –which is linked to Alzheimer's, worsening asthma, allergies, and more. (2,3,4)
Coffee Availability is Diminishing Due to Global Warming
But let's get to the real issue of climate change – our cup of Joe! Internal dialogue screaming now, "NO, NOT MY COFFEE!"
Rising CO2 changes due to global warming impact the quality of our crops and water availability. If you're a coffee aficionado, you may know that coffee needs a steady and sizable amount of water and excellent drainage.
About half the world's coffee-producing land will be unsuitable by 2050, according to a report from the International Center for Tropical Agriculture (CIAT). (5)
Additionally, at least 60% of all coffee species (75 out of 124) are threatened with extinction. (6)
So if you're for coffee but question climate change, you may want to re-evaluate the evidence and your beliefs, before your favorite bean is gone f-o-r-e-v-e-r.
Climate Change and Coffee Bean Peril
Okay, I know it's horrible, but let's momentarily put aside our concern for the pressing and serious issue of world hunger, limited access to food, poor nutrition, etc., and focus just on the coffee bean peril at hand. Our beloved energizing beverage is at risk due to uncertain weather patterns and more extreme weather, like heavy rain and hotter days. (7) Yes, coffee beans are getting hit hard by global warming.
Nicaragua and Ethiopia, two countries that grow and produce a large amount of coffee, are expected to see a decrease in suitable coffee-growing areas, up to 90% and 21%, respectively, with an increase in temperatures. (1) It doesn't look like the climbing temperatures are slowing down anytime soon.  (7)
How the Best Tasting Coffee Could Change
WARNING: Future coffee bean quality could leave a bad taste in your mouth. So for those of you who would sell any cherished heirloom to afford to stock up on beans, thinking you'll be safe, and still get them with the increased demand and higher cost –not so fast!
The warmer temperatures may also negatively affect the taste of this coveted bean. With the temperature heating up, the berry of the plant (where the bean lives) ripens too quickly, causing a decrease in bean quality. (8)
Warm weather can also cause the beans to collect less sugar and can alter other compounds in the plant, leading to a disruption in the delicious flavor and aroma created when coffee beans are roasted. (8)
Coffee Production Decreasing
Based on the Intergovernmental Panel on Climate Change (IPCC) scenarios, several modeling studies, using temperature as the most relevant climatic factor, have predicted decreases in biodiversity among coffee arabica wild populations (9), strong reductions on coffee yields (5)(10) and important losses of adequate areas for coffee cultivation. (11,12)
Additionally, coffee production has already been affected by climate changes in several coffee-growing countries, due to severe drought spells in combination with supra-optimal temperatures. (13)
In the area between Panama and central Mexico, the ability to grow Arabica coffee beans is projected to decline dramatically, leading to the need to find new areas suitable for growing the crop. The number of pests is also expected to increase as climate conditions change. (13,14)
By 2050, more than 55% of the current regions for coffee bean farming may not be suitable. (1)
Coffee and Cancer and Inflammation
A lot of us enjoy coffee because it tastes good and helps us feel more alert and focused. In addition to these perks, coffee has health-related benefits that can impact our well-being – including increased focus. Dietitians and other health experts have proclaimed the perks of coffee for years. Generally speaking, three to four cups a day may help reduce your risk of developing chronic conditions such as heart disease, liver disease, type 2 diabetes, and dementia. (15)
Coffee also has been shown to have a protective effect against certain types of cancer, including endometrial and liver cancer. (16) Furthermore, a daily intake of coffee is associated with a decrease in breast cancer risk for postmenopausal women. (17) There are many nutrients in coffee that may play a role in its impact on certain types of cancer. Interestingly, caffeine is involved in cancer prevention because can speed up the passage of carcinogens through our digestive tract (i.e., less exposure time to these cancer-causing substances). (16) Researchers believe that there are multiple mechanisms by which coffee reduces cancer risk, including decreased inflammation (i.e., less DNA damage), and increased insulin sensitivity, which can reduce cancers where growth is promoted with excess insulin. (16)
Coffee and Blood Pressure
Some may be concerned that drinking coffee and caffeine intake can cause an increase in blood pressure and hypertension risk. However, studies have shown that coffee consumption does not have a clinically important effect on blood pressure. Drinking up to 6 cups a day is not associated with the development of hypertension. (18)(19) But it's still important to pay attention to how you feel after a cup or two, as I've found some of my clients notice an increase in blood pressure at least temporarily. If you're not sure how much caffeine you're truly consuming, see my chart on caffeine in common food and beverages. Some studies have even found that drinking 2-5 cups of coffee per day may be associated with lower risks for cardiovascular death. (18)
Climate Change Prevention – Don't Take Away My Coffee Beans!
How can changing diets help address climate change? Agricultural activities emit substantial amounts of greenhouse gases (GHGs). Food supply chain activities past the from transportation, storage, and packaging also contribute to energy use. Producing animal-sourced food like meat and dairy emits larger amounts of greenhouse gases than growing crops, especially in intensive, industrial livestock systems.
If we shift our diets more towards plant-based foods and decrease animal-sourced food it reduces the amount of agricultural land needed to support our food chain. You don't need to become vegan, but subbing in more plant-based meals will help. Also, living greener, decreasing food waste and making changes in how we feed animals can decrease methane gas production. For example, funding research into feeding cows red seaweed instead of grain could help decrease greenhouse gases. Eating more regional and seasonal food can also help. (1) Essentially eat more plants and live a greener lifestyle to minimize global warming and protect our coffee beans .
March for Coffee
You're probably now thinking – don't take away my beans! We need to do more than daydream of building our own private climate-controlled greenhouse where we grow our own supply of coffee (wait, is that just me?). We need to take action. When was the last time you called your congressperson, senator, or local official? Have you marched for social justice issues? The next time you go to vote, march for change, or make a purchase, think about our climate and think of our beloved bean. I'll see you at the next Climate Change March with my "Coffee Beans at Peril" sign, chanting, "Protect our beloved beans!" Stand with me!
References:
Mbow, C., C. Rosenzweig, L.G. Barioni, T.G. Benton, M. Herrero, M. Krishnapillai, E. Liwenga, P. Pradhan, M.G. Rivera-Ferre, T. Sapkota, F.N. Tubiello, Y. Xu, 2019: Food Security. In: Climate Change and Land: an IPCC special report on climate change, desertification, land degradation, sustainable land management, food security, and greenhouse gas fluxes in terrestrial ecosystems [P.R. Shukla, J. Skea, E. Calvo Buendia, V. Masson-Delmotte, H.-O. Pörtner, D.C. Roberts, P. Zhai, R. Slade, S. Connors, R. van Diemen, M. Ferrat, E. Haughey, S. Luz, S. Neogi, M. Pathak, J. Petzold, J. Portugal Pereira, P. Vyas, E. Huntley, K. Kissick, M. Belkacemi, J. Malley, (eds.)]. In press
Moulton PV, Wang Y. Air pollution, oxidative stress, and Alzheimer's disease. J Environ Public Health. 2012; 2012:472751. doi: 10.1155/2012/472751
Common Asthma Triggers. CDC.gov. https://www.cdc.gov/asthma/triggers.html. Published December 14, 2010. Accessed April 13, 2020.
Lee SY, Chang YS, Cho SH. Allergic diseases and air pollution. Asia Pac Allergy. 2013 Jul; 3(3): 145-154. doi: 10.5415/apallergy.2013.3.3.145
Bunn C, Laderach P, Rivera OO, et al. A bitter cup: climate change profile of global production of Arabica and Robusta coffee. Climatic Change. 2014;129:89–101
Davis AP, Chadburn H, Moat J, et al. High extinction risk for wild coffee species and implications for coffee sector sustainability. Science Advances. 2019; 5(1). doi: 10.1126/sciadv.aav3473
Moat J, Williams J, Baena S, et al. Resilience potential of the Ethiopian coffee sector under climate change. Nature Plants. 2017;3(7). doi:10.1038/nplants.2017.81.
Damatta FM, Avila RT, Cardoso AA, Martins SCV, Ramalho JC. Physiological and Agronomic Performance of the Coffee Crop in the Context of Climate Change and Global Warming: A Review. Journal of Agricultural and Food Chemistry. 2018;66(21):5264-5274. doi:10.1021/acs.jafc.7b04537.
Davis AP, Gole TW, Baena S, et al. The impact of climate change on indigenous arabica coffee (Coffea arabica): predicting future trends and identifying priorities. PLoS One. 2012; 7:e47981. 10.1371/journal.pone.0047981
Gay C, Estrada F, Conde C, et al. Potential impacts of climate change on agriculture: a case of study of coffee production in Veracruz, Mexico. Clim. Change. 2006;79 259–288. 10.1007/s10584-006-9066-x
Zullo J, Pinto HS, Assad ED, et al. Potential for growing Arabica coffee in the extreme south of Brazil in a warmer world. Clim. Change. 2011;109: 535–548. 10.1007/s10584-011-0058-0
1Magrach A, Ghazoul J. Climate and pest-driven geographic shifts in global coffee production: implications for forest cover, biodiversity and carbon storage. PLoS One. 2015;10:e0133071. 10.1371/journal.pone.0133071
De Sousa K, Van Zonneveld M, Holmgren M, et al. The future of coffee and cocoa agroforestry in a warmer Mesoamerica. Sci Rep. 2019; 9:8828. doi: 10.1038/s41598-019-45491-7
Ovalle-Rivera, O, Läderach, P, Bunn, C, et al. Projected shifts in Coffea arabica suitability among major global producing regions due to climate change. PLoS One 10 (2015).
Poole R, Kennedy OJ, Roderick P, et al. Coffee consumption and health: umbrella review of meta-analyses of multiple health outcomes. BMJ. 2017; j5024 doi: 10.1136/bmj.j5024
Coffee. AICR. https://www.aicr.org/cancer-prevention/food-facts/coffee/#research. Accessed February 18, 2020.
Lafranconi A, Micek A, Paoli PD, et al. Coffee Intake Decreases Risk of Postmenopausal Breast Cancer: A Dose-Response Meta-Analysis on Prospective Cohort Studies. Nutrients. 2018;10(2):112. doi:10.3390/nu10020112.
Okeefe JH, Dinicolantonio JJ, Lavie CJ. Coffee for Cardioprotection and Longevity. Progress in Cardiovascular Diseases. 2018;61(1):38-42. doi:10.1016/j.pcad.2018.02.002.
Willett WC, Stampfer MJ, Manson JE, et al. Coffee consumption and coronary heart disease in women. A ten-year follow-up. JAMA. 1996;275(6):458-62. doi:10.1001/jama.1996.03530300042038