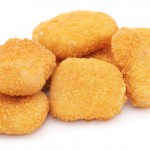 It depends. Some chicken nuggets include the skin, added salt, and batter that can contain twice as much saturated fat (than without the batter).However, oven-baked chicken nuggets made of white meat chicken breast  in place of fried chicken nuggets can be quite healthful. So when cooking at home or buying store bought items, it's important to read the ingredient list and food label and then prepare foods in the healthiest ways possible.
To save money and keep your heart healthy, try making your own nuggets! Start by cutting up chicken breast (without the skin) or by buying chicken tenders, then dip the chicken pieces in egg whites, and roll in seasoned bread crumbs for a healthier nugget. Again, be sure to bake, not fry, to avoid unhealthy saturated fat or oxidation of oils.
Kids like the appeal of bite-size pieces –so they're a hit in a lunch box served cold with ketchup.
Choose ketchup without the high fructose corn syrup. You can also try mixing half ketchup with tomato sauce to cut down on sugar. Just keep it on the low-down—kids may not get too excited if they find that their favorite condiment is not the "real deal."
Pair chicken nuggets with a salad full of bite size grape tomatoes with a yummy low-fat salad dressing and/or serve with pre-cooked frozen sweet potato fries, a healthier alternative to the loved French Fry (again, just be sure to read the labels).
When dining out, chicken nuggets are often found on the kid's menu. Why limit your child to the kid's menu?  Choose a healthy appetizer and one or two veggie sides (coleslaw, hummus, or side salad). Then share part of your entrée with your child. Fish, bean or chicken taco dishes can be good selections to share because they often include 2-3 tacos. If you're out at a fast food restaurant –get on-line first and read the labels. Pick the entrée with the lowest saturated fat content and lower total fat grams. Compare your choices before your next order –having the right information on hand is half the battle of making good choices.