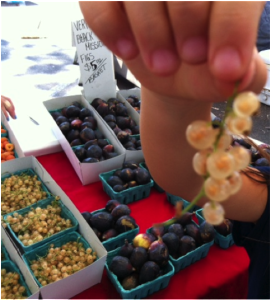 Kudos to parents who succeed in getting their kids to eat fruits and vegetables! Sneaking them into sauces, pasta dishes and casseroles is one way – and certainly better than nothing – but why not feature these healthy foods front and center in fun and appealing ways? Adults need fruits and vegetables too so these tips for highlighting fruits can be applied to the whole family:
Brighten up your breakfast: Fruits add tons of nutrients, natural sweetness, and bright colors. Add fresh blueberries to your high fiber cereal. Top oatmeal with fresh or stewed peaches. Build your omelet with blackberries and low-fat Brie cheese.
Make cookie cutter fruit shapes: Using cookie cutters, cut fun shapes from fruits like watermelon, Cantaloupe, and sliced pears. Cut hearts out for Valentine's Day or four-leaf clovers for St. Patrick's Day. Entertaining for adults? Use fruit shaped cutters to make a fruit flower bouquet. This makes a beautiful centerpiece and a tasty dessert!
Accent your salads: You might not realize it, but you are probably already eating fruits in your salads. Commonly mistaken for vegetables, avocado and tomato are technically fruits.  Experiment with others like tossing fresh blueberries into Spring Mix or adding sliced strawberries to spinach salad. Or try substituting sliced peaches for tomatoes.
Serve "fruit-full" starters: Skip the heavy appetizers like chicken wings or deep-fried potato skins, and entice guests with quick and easy fruit-based combos. Gather ideas from Fruits and Veggies as Unique as your Children and Colorize your Diet.
Test Your Knowledge then check out Lauren's Blog.
Q: How much fruit is recommended per day for most age groups?
A:  About 1 1/2 to 2 cups, but may vary due to activity level.
Q: How can you get the most out of a fruits flavor and texture?
A. Buy it fresh and in-season and consume according to storage guidelines
Q: What are some ways to make fruit attractive, easy and convenient?
A: Prepare fruit snacks such as a small bowl of grapes, cut up cantaloupe, apple slices (with lemon juice) ahead of time and put them in the center of the refrigerator where they can be seen. Prepare a bowl of fresh fruit to place in the center of your kitchen so you will see it as you enter and leave.